Here we present the latest thoughts on how the development might take shape. 
Housing and affordable housing. 
PA Housing and the London Borough of Ealing share an ambition to ensure that the highest amount of affordable housing will be provided and that this housing will be tenure-blind – that is, all tenures will be designed and built to the same high standard.  
More than 50% of proposed housing will be affordable with a mix of London Affordable Rent, intermediate First Homes and London Living Rent as well as some private housing. A mix of unit sizes are proposed including 2 bed, 4 person and 3 bed, 6 person family sized homes with larger homes maximised in the affordable tenures to better meet local needs.
All homes will exceed Nationally Described and London Plan space standards in terms of size and private amenity space provision and play space for younger children will be prioritised on site. 90% of homes will meet M4(2) 'Accessible and adaptable' with 10% being M4(3) 'wheelchair user dwellings', ie. is designed to be wheelchair accessible, or easily adaptable for residents who are wheelchair users.
Sustainability. 
The scheme will benefit from a high level of sustainability. Passivhaus and other alternative exemplar sustainability standards (Home Quality Mark, BREEAM) being considered
Landscaping 
Open space is a vital consideration in the emerging proposals. There are significant opportunities to improve the site's Urban Greening Factor and achieve a bio-diversity net gain through new landscaping and tree planting. All homes will have their own private space to use and enjoy. The plan below shows the potential for different uses at ground floor. This will include the addition of new trees.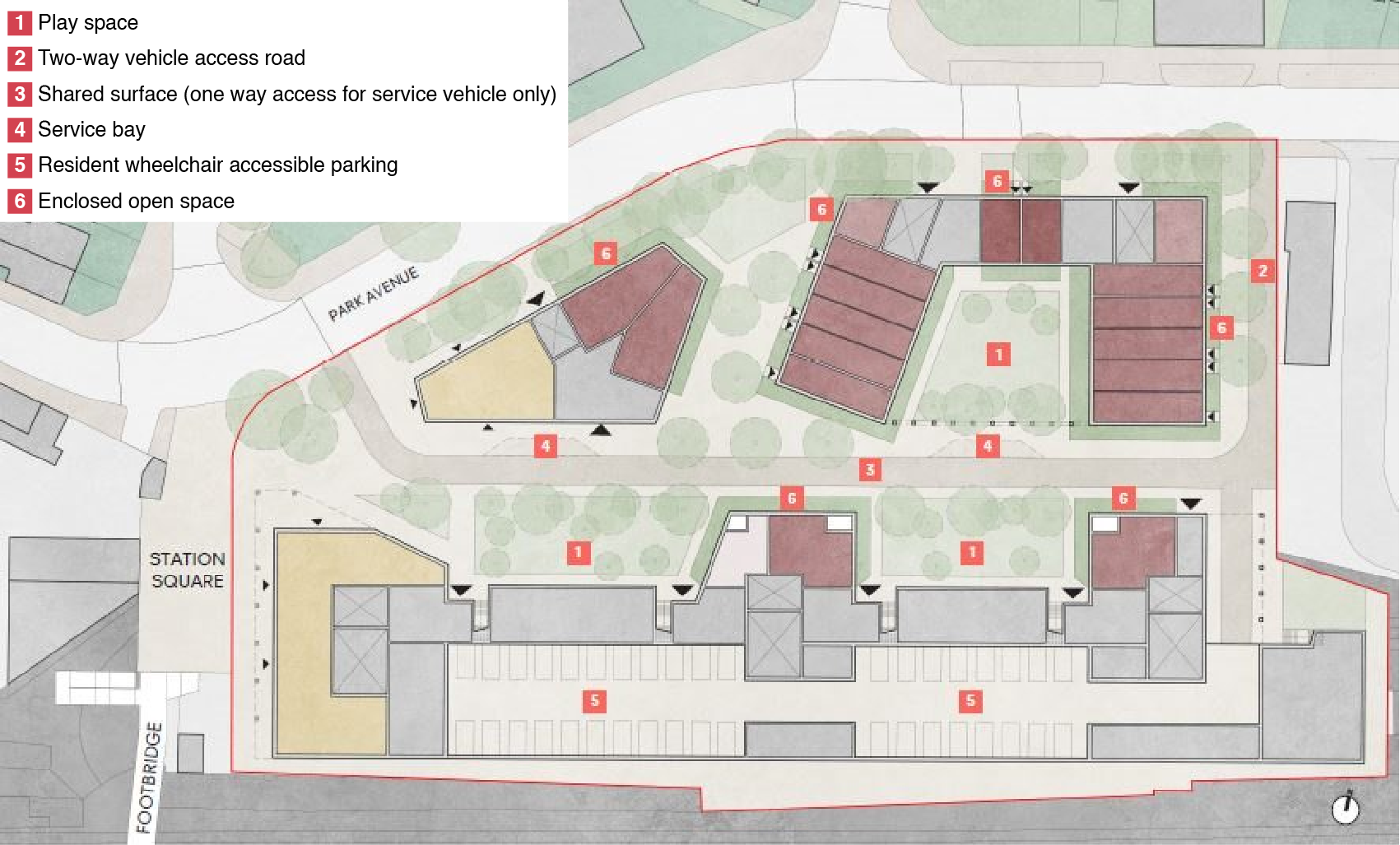 There is scope for further landscaping on the first floor, as shown below. This open space will be south-facing and well-lit and useable by the residents of all the buildings, with landscape and vegetation separating and screening the open space from the railway line.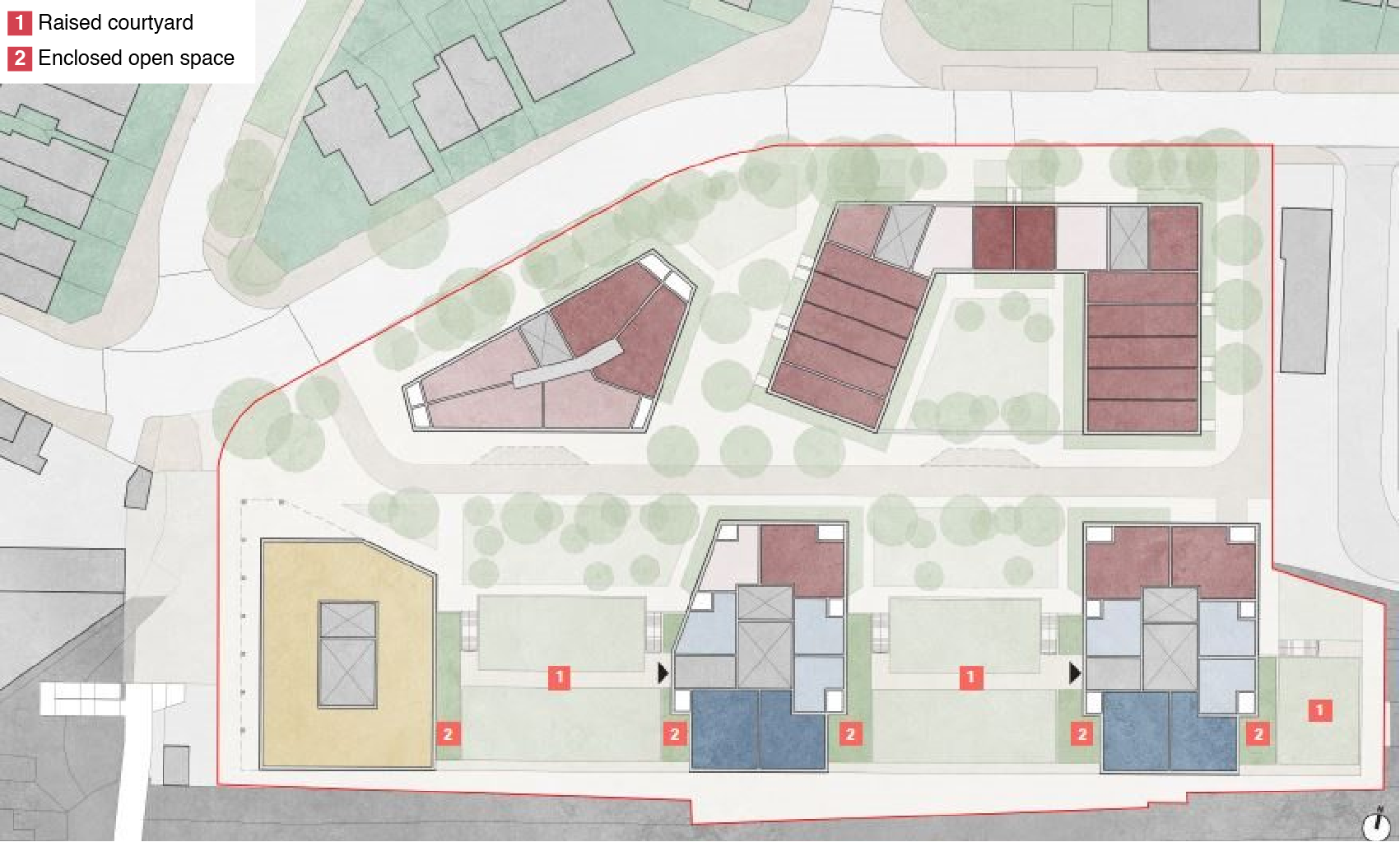 Business and commercial space 
Jobs are important and the development has the potential to include office or other space for businesses.  
Car parking. 
Ealing Council declared a climate emergency in April 2019, committing to treat the climate and ecological emergency as a crisis requiring immediate and vital action. This includes reducing dependency on the private car. 
Given the project site's proximity to Southall Station, the development is considered car-free, meaning that residents will not be provided with car parking or able to access permits for any Controlled Parking Zones in the area. At present, only wheelchair-accessible homes will be allocated a parking space, which is a requirement of the Mayor of London's London Plan.  
These spaces are located in a covered car park running along the southern edge of the site, accessed from the eastern entrance to the new central street with doors to residential cores for the three southernmost buildings. There will be spaces for users of Blue Badges.  
Cycle Parking 
The number of cycle parking spaces provided is as per London Plan requirements. It is proposed for each building to have direct access to a secure, covered cycle store. 
Additional short-stay cycle parking will be provided for use by residential and commercial visitors. 
These and other issues will be fully explored as the development continues. We look forward to updating this website as further work is progressed on the emerging proposals. We welcome your views on the emerging proposals.